Optimal Air Solutions Is Committed To The Heath And Well-being Of Our Customers...
With the growing concern over the coronavirus, Optimal Air Solutions is committed to the heath and well-being of our customers, community and employees. Our technicians travel around the Houston area each day and work directly with a variety of people, homes and businesses. We understand that germs can spread easily, whether it be the coronavirus, the flu or a common cold.
Our staff is following the CDC recommendations to have any sick employees stay home, follow respiratory etiquette and hand hygiene, and perform regular/routine cleaning of commonly touched surfaces and tools. Upon customer request our technicians will wear half mask respirators with P100 cartridges, gloves and/or tyvek suits. We want to ensure that our staff is taking extra safety measures to make sure you feel comfortable having us in your home during this time. We also ask that if you or someone at your home is sick or have traveled out of the country recently to please inform our staff prior to your appointment.
During this time we are working diligently to keep a clean and healthy work environment so we can continue servicing you! We want you to know that you can rely on us to always put your health and safety first. Thank you for trusting in Optimal Air Solutions!
Are you looking for further peace of mind?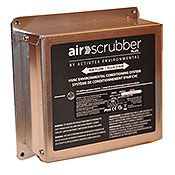 Air Scrubber with ActivePure®
Ask us about the Air Scrubber with ActivePure® Technology. Air Scrubber attaches directly to the HVAC system ductwork to remove air pollution, VOCs, surface contaminants, pet dander, odors and dust, resulting in a cleaner, healthier and more efficient home.
Air Duct Cleaning and Sanitization
Also check out our new duct cleaning and sanitizing services! Using the Rotobrush® equipment Optimal Air Solutions certified and trained technicians will thoroughly clean and remove dust and contaminants within your duct work. The Rotobrush® is designed to effectively and safely clean flexible duct work, duct board and metal duct work. We also provide the option to sanitize your duct work using our microbiological fogger. The handheld fogger uses atomizes EPA registered antimicrobial chemicals to disinfect your air ducts.
PACKAGES STARTING AS LOW AS $375